Welcome to the office of John P. Meyer, DDS, "The Gentle Dentist" in Hornell, NY.
Dental X-ray examinations provide valuable information that your dentist could not collect otherwise. With the help of radiographs (the proper term for pictures taken through x-rays), your dentist can look at what is happening beneath the visible oral tissues. For answers to common questions please refer to our
FAQS
.
Finding and treating dental problems at an early stage can save time, money and unnecessary discomfort. It can detect damage to oral structures not visible during a regular exam. If you have a hidden tumor, radiographs may even help save your life.
There are three major types of dental x-ray series: the initial full mouth series, the yearly bite wing series, and the Panoramic x-ray film.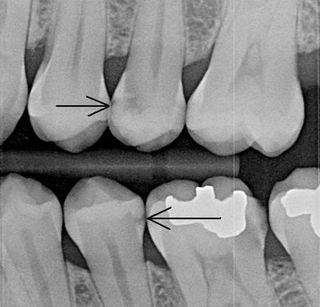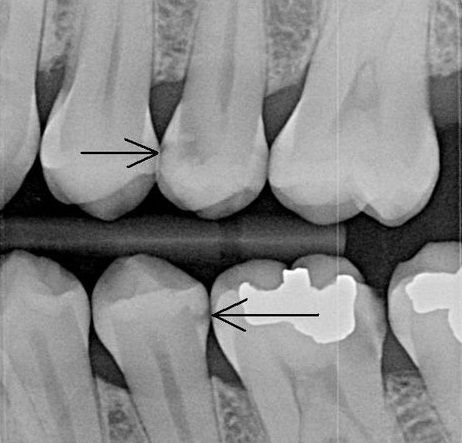 Here's an Xray showing decay in between teeth, right where the arrows are pointing. These cavities would not be visible just by looking, and probably would not be causing the patient any pain. Yet. The top decay is getting close to the nerve of the tooth. Good thing this patient shoed up when they did - toothache was avoided!