Reception and check-out
Appointment scheduling and confirmation
Records management
Accounting and bookeeping procedures
Manage the schedule
Answer phone and handle patient requests
Preparation of written business communications
Discuss treatment plans with patients and follow-up
Cross-trained to assist Dr. Meyer with procedures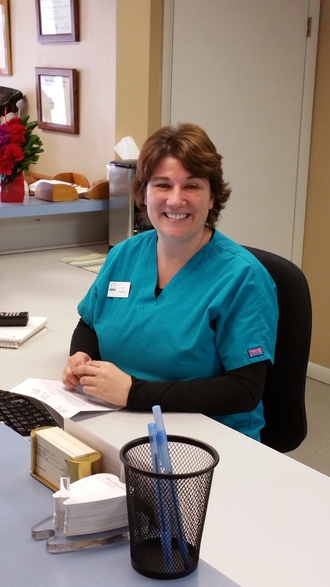 Hi, I'm

Lori

. I work at the front desk and I have been here since July of 2005. I find myself very busy doing anything from being the first person to greet the patient and answer the telephone to scheduling appointments and checking patients out after their treatment is complete. I am also the one who will try to answer any billing and insurance questions the patient may have. I think the best part of my job is being able to get to know our patients on a first name basis and develop a good relationship with them. We live in a small town, so when I see a patient shopping at Wegmans or eating at a local restaurant and they recognize me and say "hi", it makes me feel good. At the end of a busy day, I enjoy going home to spend quality time with my daughter. I also love to travel and have visited many beautiful places in the U.S. and other countries including Greece, Germany, and Italy.