Dental Crowns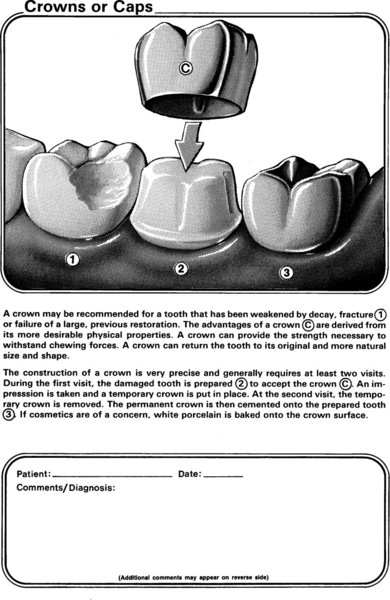 Once there is insufficient tooth structure to hold that great whopper of filling, a
porcelain crown
is recommended. Crowns are also known as "caps".
Crowns are a type of dental restoration which, when cemented into place, fully cup over the portion of a tooth that lies at and above the gum line. In comparison, fillings are dental restorations that fill in or cover over just a portion of a tooth and a crown is a dental restoration that covers your entire tooth. Since dental crowns encase the entire visible aspect of a tooth, a dental crown in effect becomes the tooth's new outer surface.
All Porcelain Crowns
It used to be that any crown had to have some metal in it for strength. Today, we can make them out of all porcelain, meaning that they can look very esthetic and very natural. Unfortunately, most dental schools emphasize the use of porcelain fused to metal crowns, and that's the only crown many dentists know how to do for front teeth. But porcelain fused to metal crowns for front teeth look opaque, unnatural, and tend to develop a dark line at the gumline after a few years that's why I recommend an all porcelain crown for front teeth.